A Laid- Back Belizean Getaway island – Caye Caulker Belize
By Eden Cruz
Just off the coast of Belize City (about 20m/32 km north-northeast), there is a island paradise know as Caye Caulker; It's small, beautiful and very friendly.   Caye Caulker is very different from its big sister island, Ambergris Caye. It's smaller (with a population of around 1,500), less developed, cheaper, and deliciously slow. No one here moves quickly, that is why the motto of the island is "GO SLOW".  'No Shirt, No Shoes…No Problem.'   You'll see this sign everywhere in Belize, but no place is it more suitable than Caye Caulker.  There are not a lot of roads, only a main street with various small extension streets and alleys.   There's not much to do on the island itself. This is a place where you 100% want to come here just to relax. There's plenty of beaches, over 57 hotels & guesthouses, food stalls, tour shops and golf car rentals. Transportation is by foot, bicycle or golf cart.   The Belizean culture and Creole/English language enrich the relaxing atmosphere.  At night there are many restaurants, clubs, and local music for your enjoyment.   However beyond that, everything in Caye Caulker involves the water!
Location: One mile west of Belize Barrier Reef
Length: From North to South, 8.2 km (5 Miles)
Width: .25 – 2.0 km (0.15 – 1.2 miles)
Population: Approximately 1,300
Culture: Mestizo, Garifuna, Creole
Hotels: 57…with 887 rooms.
How to get to Caye Caulker?
Regular flights to Caye Caulker are available from Belize City (both the international and municipal airports) & San Pedro.  Water taxis from Belize City or San Pedro  are also available, the ride is usually around 45 minutes.    Alternatively you can hire a private vessel to head directly there and customized your trip to suit you and visit the various sites.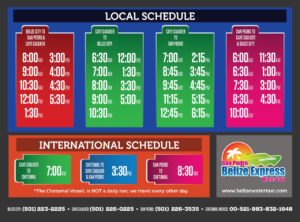 Where to stay in Caye Caulker?
You don't come to Caye Caulker for a resort experience. None really exist here, you come to enjoy a lay back vacation and enjoy the sea life.     The best accommodations you can find are a few hotels and high-end guesthouse with a pool, of which there are a few.   Visit our Hotels Page Listing to find a accommodation that suits your needs.   See our top suggestions below:
Hotels

Caye Caulker Plaza Hotel

Guest House

De Real Macaw
What to do in Caye Caulker?
For those who want to know the island better and experience all the marine activities, then here is a list of activities for you to do
Local Diving or Snorkeling at the

Caye Caulker Marine Reserve

– The Caye Caulker Marine Reserve is a newly protected area. This half day trip out to the reef is a must do if you are staying on the island.

Swim or Snorkeling  with Sharks at

Shark Ray Alley

– Yes that's right, one of the very best things to do in Caye Caulker is to swim with sharks. These are Nurse sharks, this variety of shark are almost harmless to humans.  This is a combo tour along with the marine reserve.
Tarpons & Seahorses – On the west side of the south island there's a tiny seahorse sanctuary that's home to dozens of these strange little creatures. At first glance you probably won't see anything but some netting that looks like it's covered in seaweed.
Diving or Snorkeling at the Great Blue Hole – One of the main draws for many visitors to Caye Caulker is its proximity to the world's second largest barrier reef. This full day trip for scuba divers and snorkelers alike the attraction is clear. The Belize Barrier Reef is one of the most diverse ecosystems on the planet.
Hol Chan Marine Reserve – the most popular snorkeling destination in Belize. The words hol chan mean 'little channel' in the Maya language and as such it has always been a natural hang out spot for marine life.

The Split –  Great place to spend the day! There is a great bar and grill called The Lazy Lizard that has excellent food and cold drinks. The split is a body of water separating North and South Caye Caulker. It is a great place to snorkel for free. There is a dock for sun bathing and easy access to the water. There is also a fishing area for those that want to try their luck. Kayaks and paddle boards are available for rent
Happy hour – Drinks can be pricey here, so take advantage of the happy hours at the various bars on the main street to save yourself some money.
Koko Beach Full Moon Parties – It's a popular hang out spot for locals and tourists alike. And even though it's just a short hop across The Split, it feels like a world away from the south island.
Dining

– Caye Caulker has 25 restaurants offering Belizean and international cuisine, including fresh seafood with lobster, conch and red snapper being seasonal specialties. Also available are Belizean beef steaks, other meats and fresh fruits and vegetables, and home made bread and other bakery items.
Local Restaurants – There are several local restaurants on the island that offer a variety of local and seafood dishes.   One popular restaurant on the island is Fantasy Dining.  The Restaurant sits right in front of the beach and offers local drinks and foods.  At night, they have a small bar outside that offer happy hour and special drinks specials
Shopping

– Caye Caulker offers nearly two dozen gift shops for your shopping pleasure. A wide variety of gifts, clothes, souvenirs, and t-shirts are available.
Rent a bike –  Golf carts are commonly driven on the island, but they are expensive to rent and are regular targets for the local authorities. Stick to a bicycle to save money.
Are you interested in visiting Caye Caulker and looking for hotel booking, tours and activities, well contract us in any of the medial below and we will tailor a travel package to suit your specific needs and budgets.
Email us: info@bzeconcierge.com