Belize Concierge Intern Ayaka Visits A Mayan Village in Belize
Hi! It's Ayaka  – Belize Concierge Intern,
Today, I'll share my report when we visited one of Mayan Villages in Santa Cruz, Toledo, Belize.
---
We visited one of the villages where descendants of those who lived in ancient Mayan civilization.
There are some Mayan people who speak English but we asked a Mayan woman to coordinate this trip in order to have a deep conversation with local people.
She is currently working as an English teacher in a village where people tend to speak non-English language. Also, she is doing empowerment services for Mayan women.
In general, the rate of school attendance for those of Maya ethinicity is relatively lower than other ethnic groups.  Therefore, unemployment rate is lower as well (18.6%)*1 and it hinders the entrance of the Mayan into the workforce.  She willingly works for them while working at school as an educator.
(*1 http://amandala.com.bz/news/unemployment-rate-14-4-highest-record-14-years/)
Before I start to write my report, I would like to give a brief explaination of the basic information of  3 different Mayans groups living in Belize:
Mopan
11,000 people speaks Mopan language.
A village we went and also our Mayan guide are this Mopan.
Kekchi/ Q'eqchi'
18,000 people speaks Kekchi language.
Yucatec
3,000 people speaks Yucatec language.
(Source: http://mayaglot.com/blog/tag/yucatec-mayan/ )
The village of "Santa Cruz" where I visited is located in the Southern most district called Toledo which contains more than 30 Mayan villages.
We were breathless and taken aback by the steeply sloping paths to reach a village. Thereafter, we could see many Mayan traditional houses.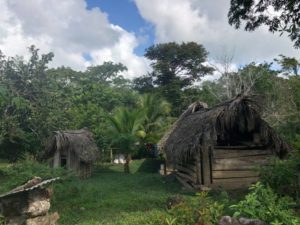 The day we visited was really sunny and I captured this nice view with a camera.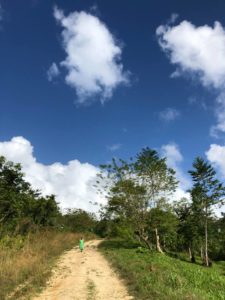 The house structure is very simple.   Depending on the households, there are barely any partition between kitchen and area they usually spend time in the daytime.  We were told that many locals would sleep in hammocks  at night rather than the traditional beds.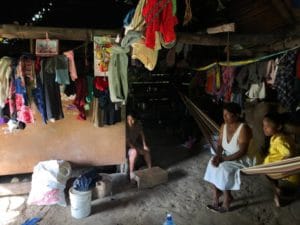 At the house we visited, a family welcomed us by serving warm and sweet drinks like corn porridge. Mayan people use corn for drinks like this and also corn tortilla which is famous around the world now.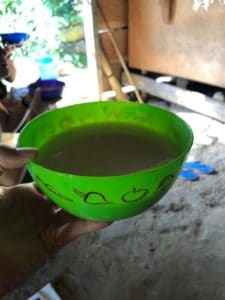 What's mainstream of tortilla is corn tortilla compared to flour tortilla among the Mayan's. We were invited to make the corn tortilla with them from scratch.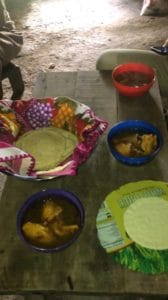 To us, it seemed that the process of making the corn tortilla very easily and quickly.  However, once we tried it, you will  come to realize that is actually very difficult.   When baking, we were told that the tortillas is finished once the middle rises like a balloon.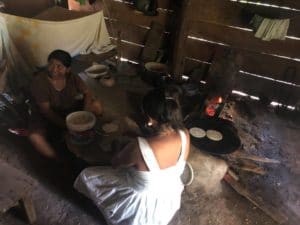 Here are tortilla we made and which we ate with "Caldo" which is the Mayan traditional chicken soup. This was amazingly GOOD!  To create this dish, they cut up a fresh chicken which they let run loose at the yard. I was very surprised that fresh chicken had totally different texture.
While we were talking, the mother of our host family entertains us with numerous funny stories and we note that she had a great sense of humor. She told us that her husband is physically challenged person so she is a family primary breadwinner.  It was memorable for me to see her positivity and cheeriness without sign of hardship she faced with.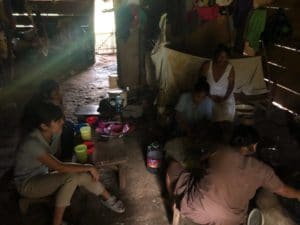 They offered us to dress beautiful Maya's traditional clothes she made when we left.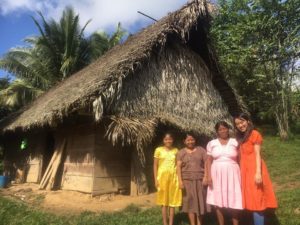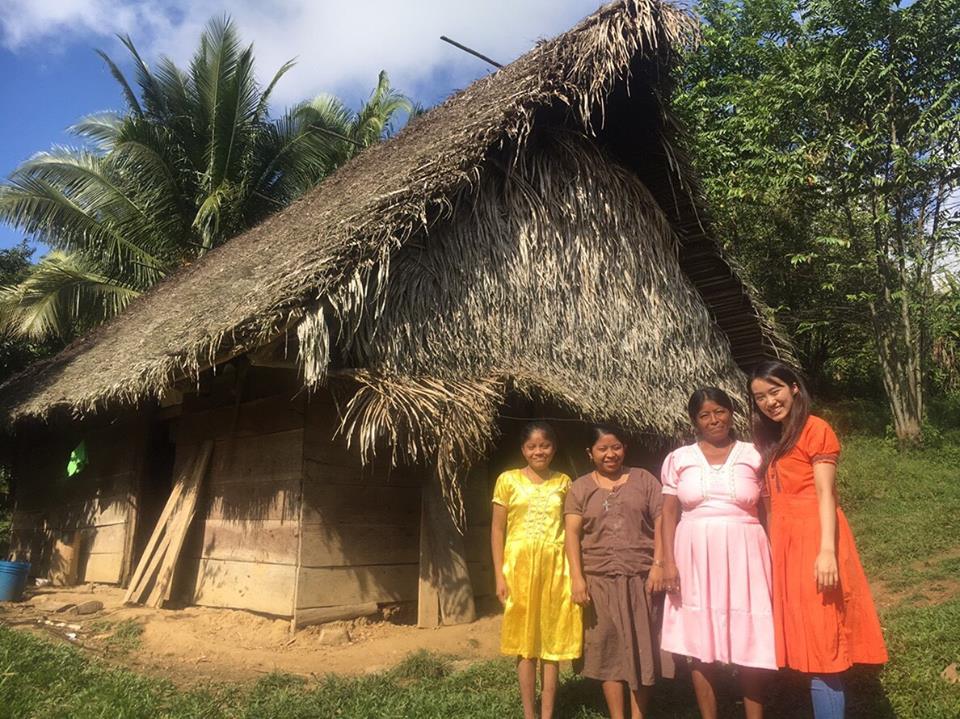 At the end, as one student who is majoring international development, I strongly believe that increase of income is essential in developing countries.
Some people says "People in developing countries seems happy even though they are economically poor so we don't have to pursue European style happiness which is increase of income." In fact, almost all are smiling here in a Mayan village.
Currently, I am unsure as to what career or field of job types I would like to pursue. However, this visit in Belize was a great opportunity for me because I have began to  re-think my future in international development.  Also, I realized studying income improvement is also one of fields of study/ career I'm strongly interested in.  During this stay in Belize, I would like to see how to relate to this problem more.
Written by: Ayaka Shimizu, BCE Intern