Environmental Belize River Clean up Effort (Oct 6, 2019)
Hello. My name is Karen Ueno and I am a intern at Belize Concierge Excellent for 1 month starting October 4th, 2019. I'm a senior at Ritsumeikan University in Japan.   I have completed all my courses and so before graduation I had free time.  I was not excited about working in a part time job everyday and thought about something that only I can accomplish.  One of those things was to do some study/work aboard, which I think was more challenging.  I saw on BCE homepage recruitment for interns from Japan and decided to make a application and was accepted to work at the office along with working with the Belize Expressive Arts Foundation.      When I arrive at Belize I fell in love and was very excited to experience the land, culture and especially my favorite the foods.
After my third day on arrival at Belize, I was invited to partake in the Belize  River Environment clean up for October 6, 2019.  We would use a canoe early in the morning along with 6 other team members to clean the river to Chetumal Bridge (about 5km) for 3 hours.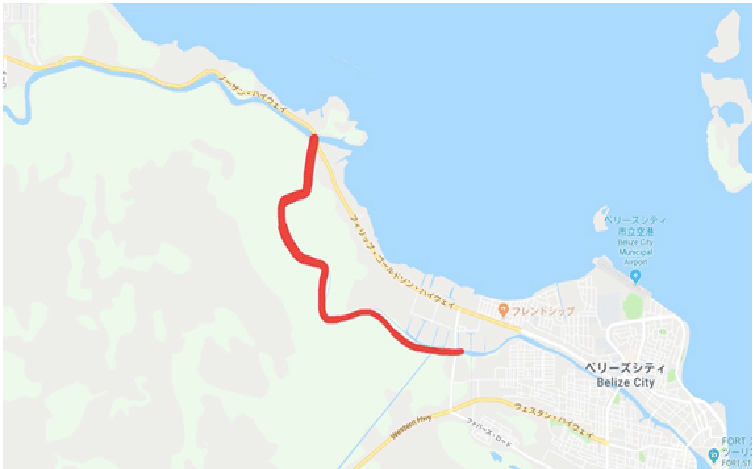 Google Map layout of river clean area
Credit: https://www.google.com/maps/@17.5082991,-88.2149135,16z?hl=ja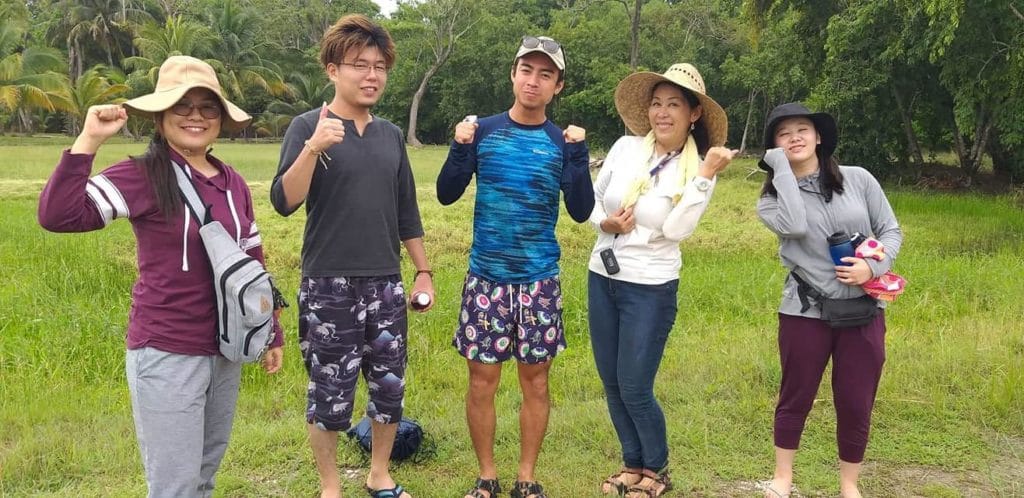 From left to light, are Miki, Yuki, Masaki, Asako and me (Karen Ueno).  Photographer: Maru
Along the riverside there are a lot of mosquitoes and the stings hurts a little which I am not use to.   Even the Belize's staff group were surprised on the number that keep biting us during our hours out in the field.     So then we started out journey, which we entered the 3 seater canoe and paddle down the riverside which had amazing view.  We pickup garbage such as plastic bottles, bags, foam plates etc that has been collected on the shore and mangroves area.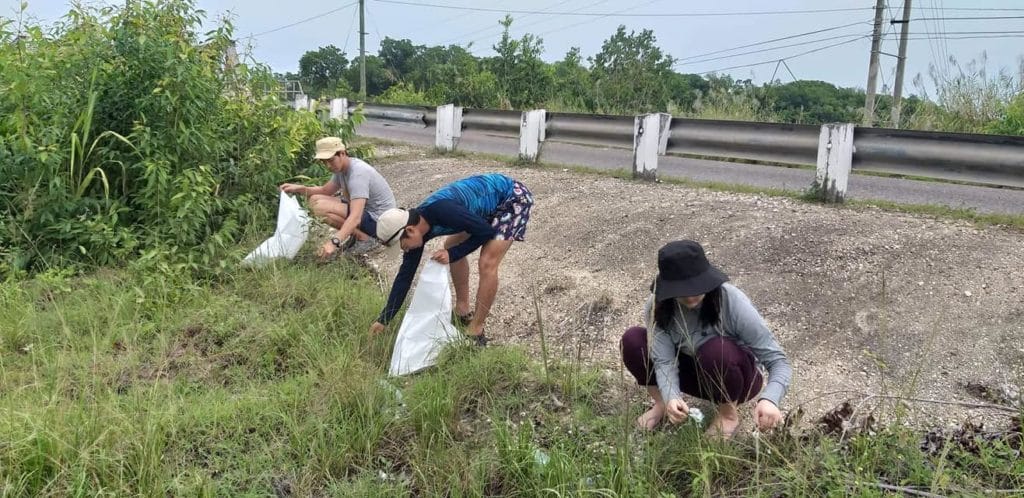 Picking trash by riverside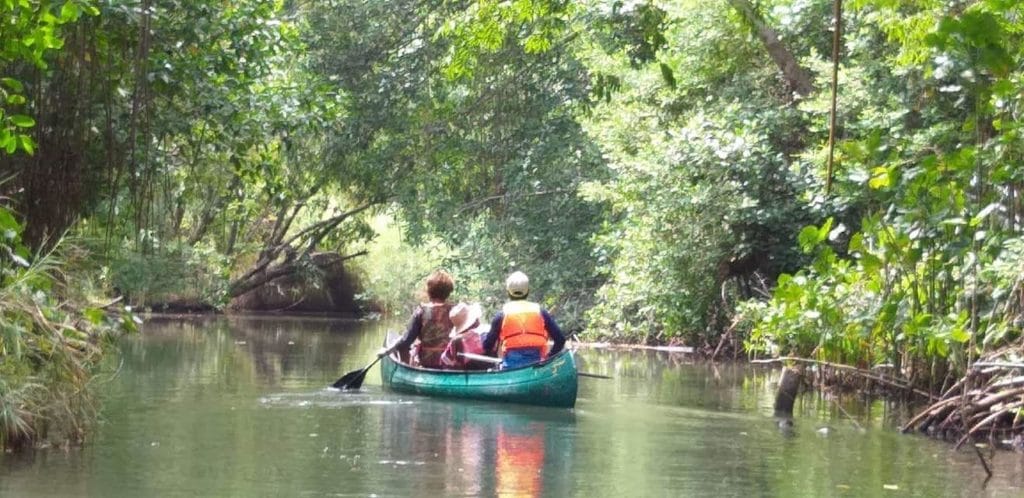 A view of mangrove and River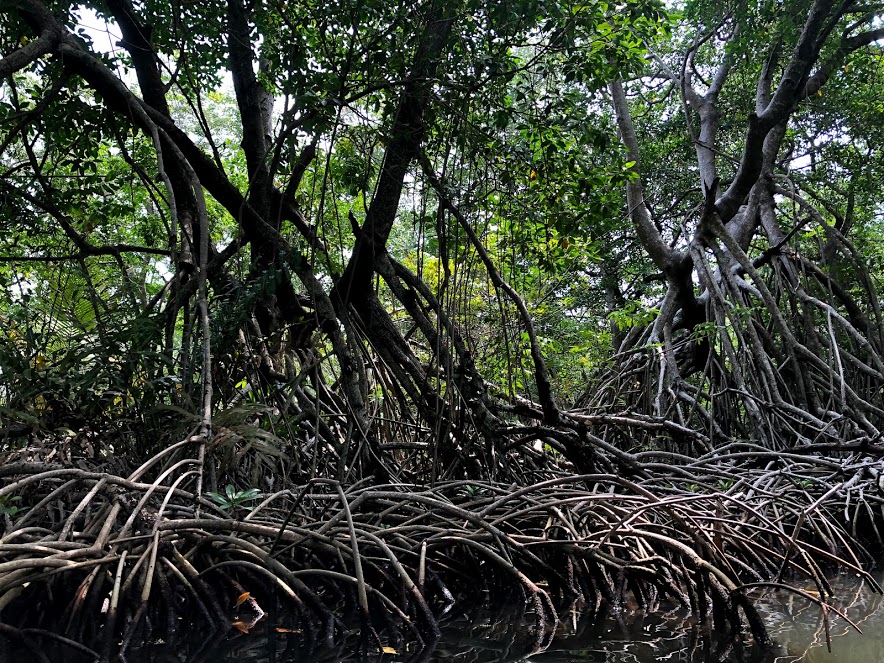 Giant Rizophoraceae
While on the travelling down the river, I was able to view a wide variety of flora , fauna and animals.   One tree that really impressed me was the mangroves along with river, these types of tree cannot be seen in Japan so I ensure  I took lots of pictures.   I also saw a tree with giant roots for the first time named "Rizophoraceae".   Along the way I saw a variety of animals such as small cubs, fishes and bird in the tree.  I was surprise on the amount of creates that can be viewed on natural habitat.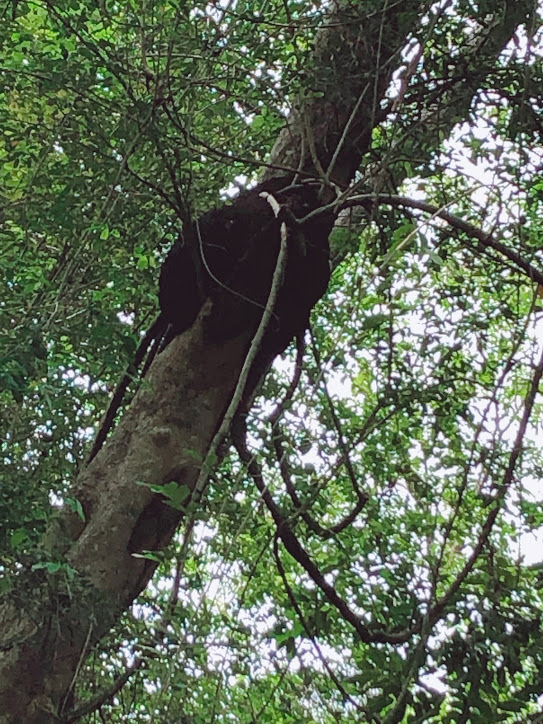 Anthill of termites
While observe the trees, I was pointed towards an pillar of termites nest in a particular tree.   In Japan, termites pillars are from old tree roots or can be found in many homes, I think they are nasty pests.  However, in Belize the termites nest can be use for several natural remedies.   For example the termites nest can be used as a substitute for mosquito coils by burning them Also, termites have a lot of protein and iron so often times locals from villages will oftentimes eat the terminates as a natural remedy.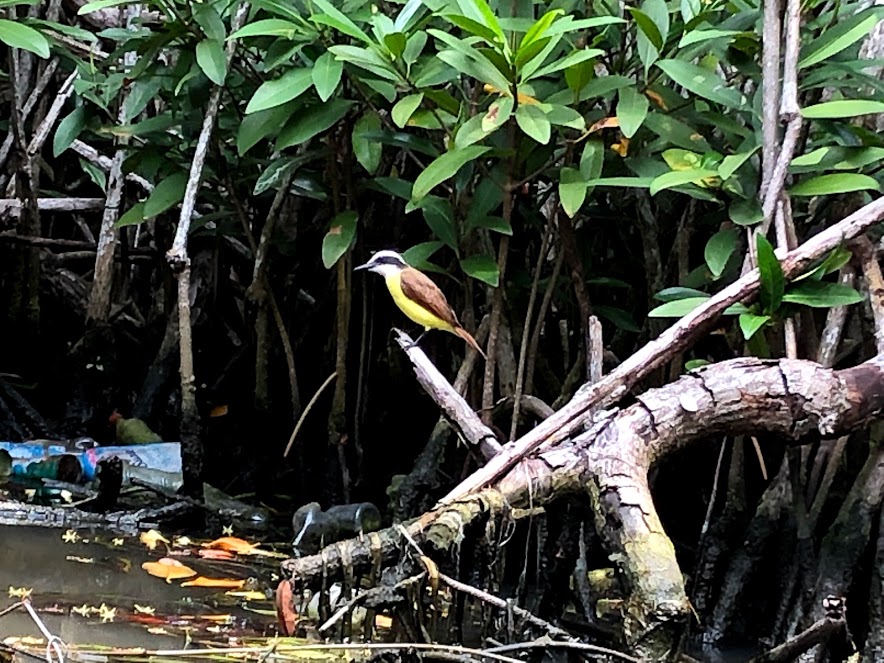 The Great Kiscade
I was able to also see this very beautiful bird call the "Great kiscade" that happen to be perched on a mangrove root. The main identifying characteristics of this bird are its yellow stomach.    These types of birds can only be found in the Americas or in Africa, so I was very fortunate enough to have spotted one in my journey.  I also saw a varity of other birds as well, but due to the noise they flew away from me.   But below I will speak on few I can remember.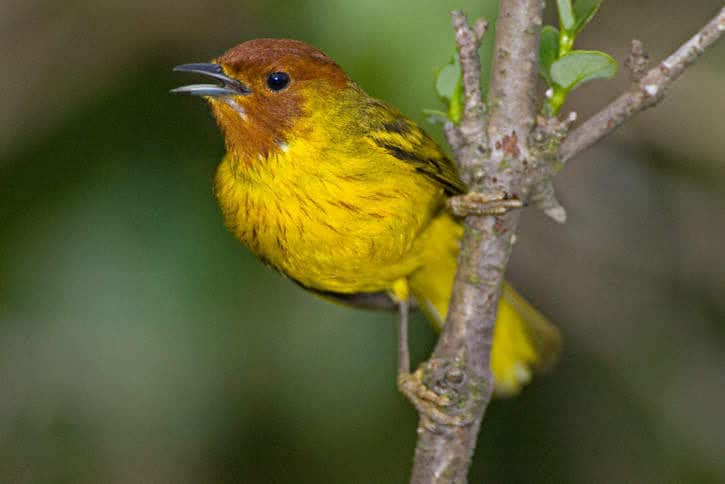 Mangrove Warbler
(http://greglasley.com/content/BirdsofMexicoandBelize/YellowMangroveWarbler.)
This bird is yellow color too. They live in Continent of America. They eat insect and make nest at riverside or mangrove.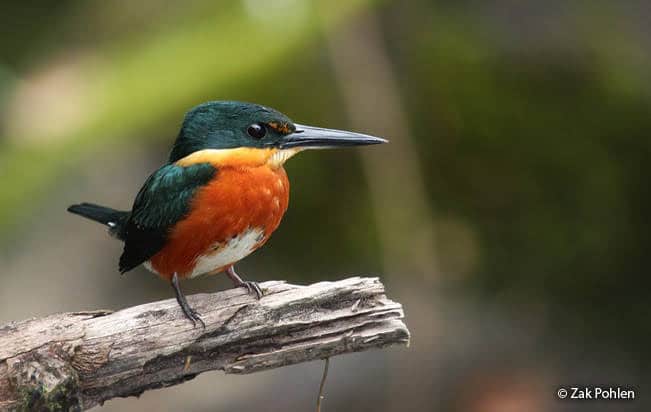 American pygmy-kingfisher
https://www.pinterest.com/pin/562668547178780119/
This bird's characteristic is green and orange color. They live from Southern Mexico to western Ecuador and Brazil.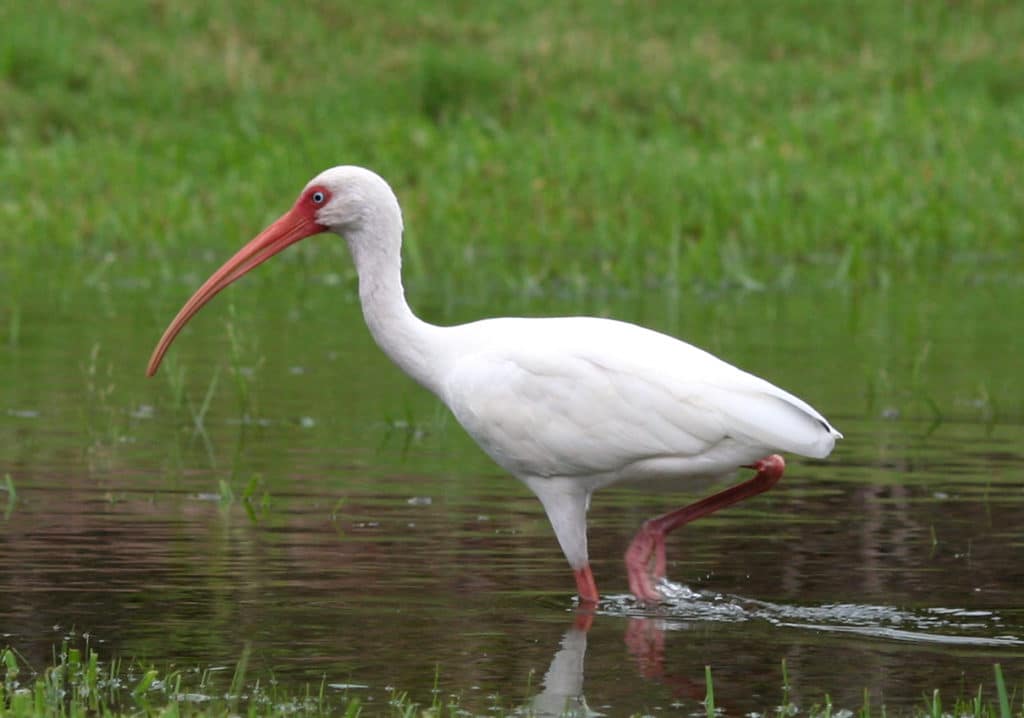 American white bill
https://en.wikipedia.org/wiki/American_white_ibis
This birds live in seaside, riverside or mangrove of North to South America regions. Their characteristic is face and beak of pink color. Japanese bisll's face is red color. And, beak is black color.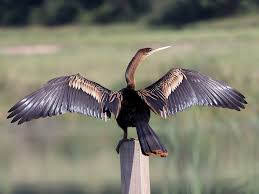 Anhinga (https://ebird.org/species/anhing)
This bird can be found in lake of Southern America to Brazil, Argentina and Cuba. They eat fish to sting with beak. In fact, I looked them with barking fish. It is amazing.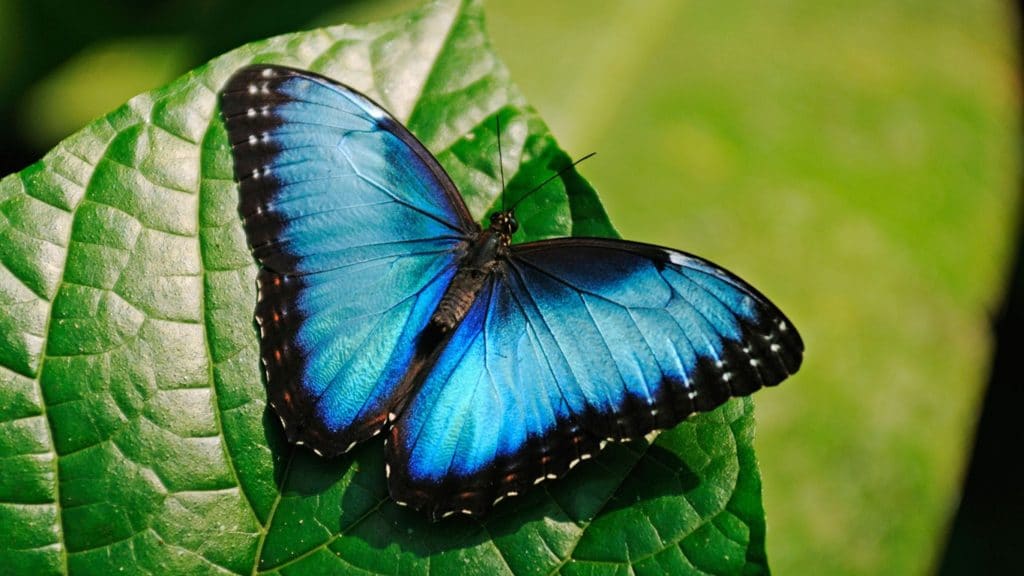 Blue Morpho Butterfly
https://www.10wallpaper.com/jp/view/Blue_Morpho_Butterfly-High_Quality_HD_Wallpaper.html
Blue Morpho Butterfly resides in the North to South America region. They is called "jewelry of forest" and said to be the most beautiful butterfly in the world.  In Japan, most of moth and butterfly identify by color.  However, this butterfly cannot be identifying by only color in Belize.  To identify this butterly is determine on how the rest while stopping.  Butterflies rest by close wings and moths rest with open wings.   I never knew this, so I was amazed to learn this.  As I glide through the river I was happy to able to see this beautiful butterfly.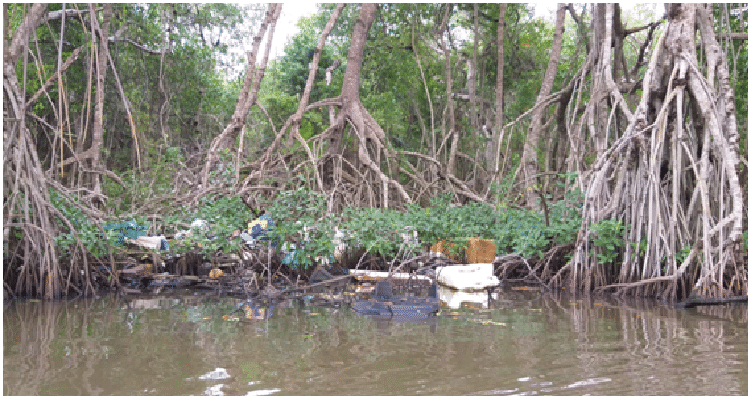 Garbage collected on the river side
So let me return to the river cleaning which was the purpose of the trip.   After 1 hour of rowing in our designated area, we were unable to find trash on the river side.    However we found a huge collection of garbage near a house and lot area.   In particular, there are oversized garbage of TV and furniture, plastic bottles, styrofoam and trash of snacks.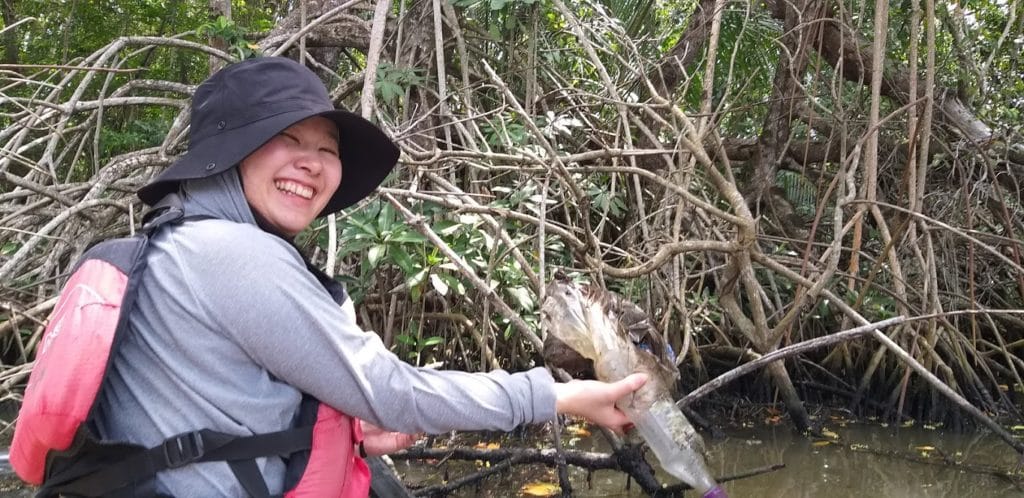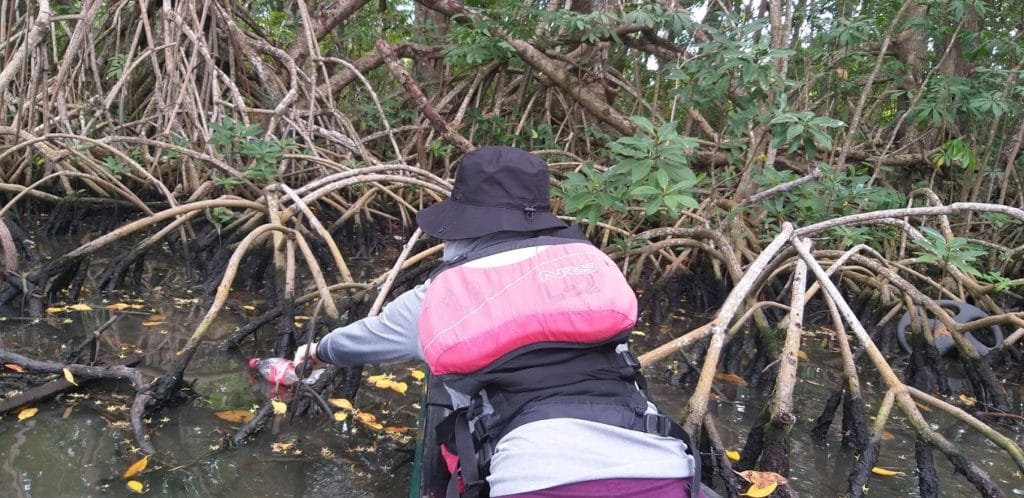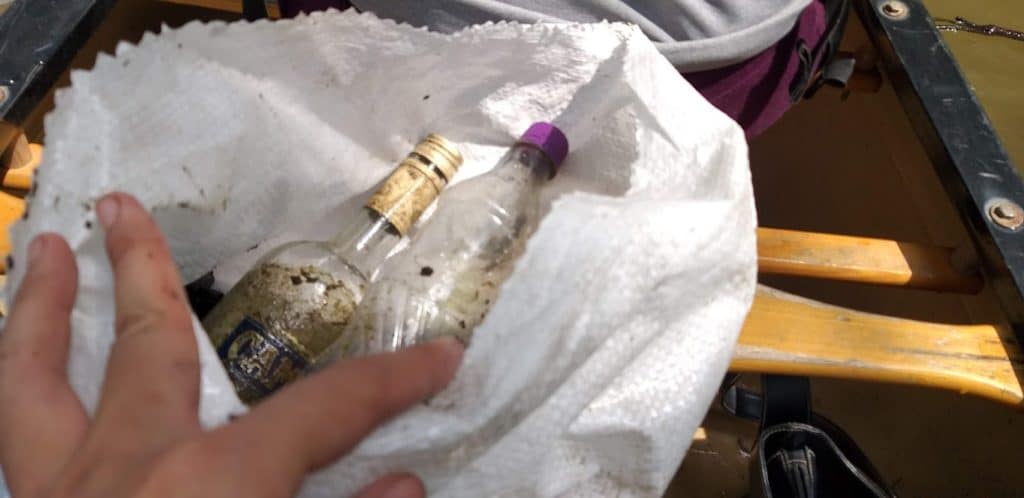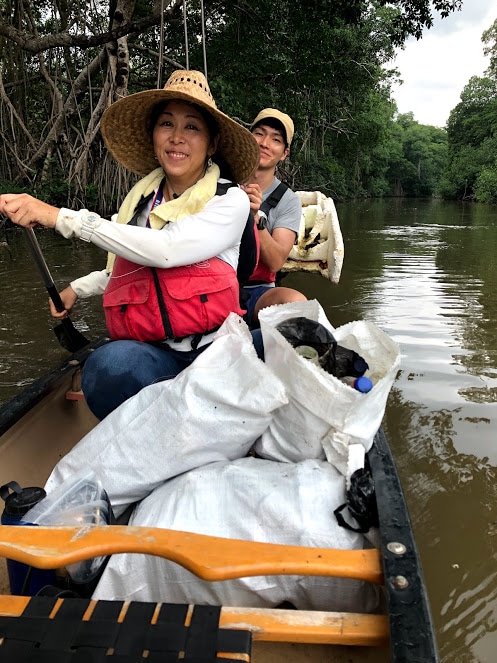 Collecting garbage
It was difficult to collect floating trash so we can to take our time to collect one at a time.  We approach the garbage by canoe and collect garbage with a drainer.   When we couldn't collect trash near tree ad mangroves, we took our times by using the oars.
After about more than 3 hours, at last, we arrived at Chetumal Bridge which was our destination goal and finished our section of the river  cleaning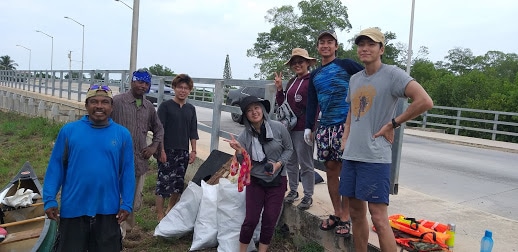 Final Comments:  When I first arrive in Belize, the areas I had visited I felt there were not a lot of garbage on the streets.   I understood there were city workers whose job is to collect trash on the streets.   However, from my experience I saw there were a lot of garbage at river and riverside.  I feel this is bad for the environment as if trash continues to collect on the river side it will disturb the natural habitat of animals, flora and fauna that reside in the river environment.   We should all try our best to dispose of trash the correct way as it is easy to throw away garbage.   And to protect the environment is not a one person job, its takes a community, a village and a country.   Belize is beautiful country that I want to stay that way.    So even its just a little, if I am on the street and see trash I will take it upon myself to pickup the ones I find and dispose of it correctly.   I hope that other Belizeans will follow my example and continue to preserve the environment.
Thank you – Karen Ueno
Comments are closed