Belize Concierge Excellent

ABOUT US
Belize Concierge Excellent is a local private travel management company in the beautiful jewel of Belize and has over 15 years experience welcoming and hosting guest while visiting Belize.
We offer reliable, safe and private tours (half day or full day), hotel bookings, transportation, flights, translation and coordination and much more.  Our company is equipped to provide services for small and large groups.   We personalized and coordinate all bookings and tours to suit your travel interest while visiting Belize.
We provide various tours throughout the country of Belize.  See The Great Blue Hole and Belize's Barrier Reef on our famous Aerial Charter Tours.  Explore Mayan Civilization and treasures and visit Belize's Maya Ruins and sites such as Altun Ha, Cahal Pech, Lamanai, Xunantunich and many more).   Have an adventure with our Actun Tunichil Muknal (ATM) tour one of Belize's popular cave sites. Tours around the city of Belize's and enjoy all historical and cultural areas. Touch a Tapir (the national animal), feed a Toucan (the national bird) or just have a close up view of all the diverse animals that can be spotted throughout the country at the Belize Zoo.  Enjoy the warms Belizean waters while diving, snorkeling or manatee watching at the Great Blue Hole or any of our other cayes and dives spots within Belize. Have a lazy day of Cave tubing and Zip lining at the Nohoch Che'en Caves Branch River and much more
Our qualified and professional team of Tour Guides, Translators, Drivers and Staff are here to ensure a pleasant, enjoyable time and memories of Belize for a lifetime!!!!!!!!!!!!
Feel free to book our tours and hotels on our website and if you need more assistant, feel free to contact us by phone or email.  We will be more than willing to help.
OUR MISSION
We are the leading professional team that designs unique and socially responsible travel experiences, providing excellent services while promoting Belize as a world renowned travel destination.
OUR VISION
To continue to be Belize's leading tourism management company offering a destination where human warmth and natural beauty combines to create an unforgettable experience.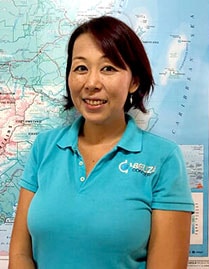 Belize License Tour Guide
Japanese speaking guide
English Speaking Guide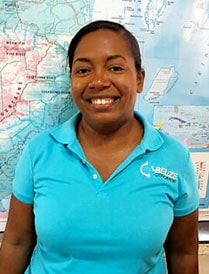 Eden Cruz, Executive Manager
Executive Manager
English Speaking Concierge