Climate
Belize has a tropical climate with pronounced wet and dry seasons, although there are significant variations in weather patterns by regions. Temperatures vary according to elevation, proximity to the coast, and the moderating effects of the northeast trade winds off the Caribbean. Average temperatures in the coastal regions range from 24 °C (75.2 °F) in January to 27 °C (80.6 °F) in July.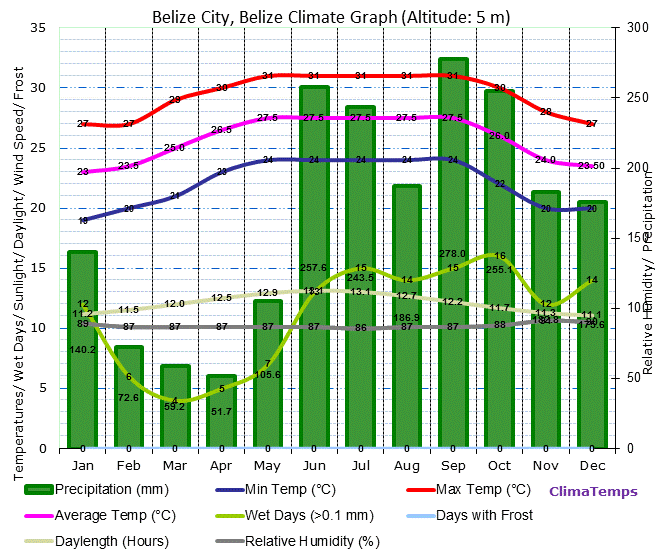 Wet Season:
June through December is our wet season, when parts of the country receive up to 150 inches of rain and the heavy, sometimes wild storms associated with the Caribbean occur, usually in the late afternoons. The most frequent rainfall usually happens in June or early July and is punctuated by a break in late July or August known as the "little dry."
Dry Season:
Belize's dry season is between February and May and has significantly lower rainfall than the rest of the year. When it does rain, it is usually in mild, short bursts.
Hurricane Season:
We also have a hurricane season, and while statistically Belize does not attract many major direct hits, it does get its share of severe tropical weather with high winds and rain. However, we have cooperative early warning network that we share with our neighbors. Our safety, evacuation and other procedures have proven to be effective, so don't worry. No matter which season you visit, there's plenty to do and see down here.
Best Season
The best time to visit Belize may depend on what you want to do. For example if you are an avid SCUBA diver, the best time may be when the waters are generally calm and this is in summer which is the off season for tourism. The tourism high season in Belize coincides with the cool and dry seasons – December to April. Thanksgiving, the fourth Thursday in November, is when tourists start to trickle into Belize.
Travel Outfits
Belize is a very warm country. Hot even, and humid. Therefore it is also sunny. Bring lightweight long clothes (like medical scrubs) which will protect you from the sun if you go bone fishing, as well as aid in keeping mosquito's off, although those little buggers would try to bite through steel if they thought they could get some blood. Scrubs are lightweight for packing, and don't take up much space.