Goff's Caye: Visit the isolated island in the sea and have a luxurious time not doing anything!
Recently popular Caribbean Sea uninhabited island Goff Kee (Goff's Caye).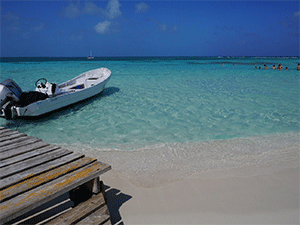 This time, I escorted a tour couple to do Manatee Watching & and day at Goff's Caye!  This is the Japanese guide Kozawa's report!
Tour Schedule: Manatee watching and schedule of Goff's Caye
9: 00 ~: From Belize City to Private Boat to the Caribbean!
9: 30 ~: Manatee tour in the mangrove area of Manatee Reserve
10: 00 ~: Arrive at Goff's Caye → Walk and shoot
10: 45 ~: snorkel Caribbean
11: 45 ~: Picnic lunch → luxurious time not doing anything leisurely
14: 00 ~: Shopping at a souvenir shop
14: 30 ~: private boat, return (Manatee, encounter dolphins!)
15: 30 Arrive Belize City
【Tour 】
Because customers wanted to snorkel today, they will rent and wear snorkel equipment and swimwear.  The private boat meets us at the hotel pier that the tour clients are staying.  Now out on our departure!  The English tour guide gave us all a quick small explanation during the boat ride about the different kind of mangroves, some features of the island, explanation of different birds and fish, etc that we might encounter.)
Mangrove area near the Manatee Reserve.
Manatee, also know locally as "sea cow" and in the past were mistaken for mermaid model, is a large creature that can range in length from 3 to 4.5 meters.  The body is rounded and smooth, its movement is limber and calm.   It was a lovely majestic creature that when you look at it , you will feel very calm and relaxed.  Manatees often surface above the water, when they do, you can get a chance to see their faces which look very calm and cool like a cucumber.

Arrival at Goff's Caye
Goff's Caye is a small uninhabited island surrounded by white sand beaches and coral, it is situated near the Belize Barrier Reef which is a world heritage.  The scene is lovely and there is so much contrast between the blue sea, the sky and white sandy beach. I was able to take a lot of photogenic pictures.  When we arrive on the island there was lots to see.  You can even eat BBQ meats, that will grilled right in front of your eyes.  The island is a safe place, as there are several toilets and areas places to change to your swim wear or snorkel/diving wear.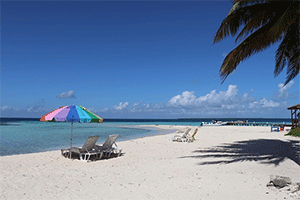 Snorkel Tour – Right off the coast of Goff Caye by boat!
I swam in the beautiful ocean for about an hour, I felt the Caribbean sea all over my skin.  I noticed that my tour clients were also very satisfied with trip and the scenic beauty of the Island.
When I asked them about it, they replied "There were many colorful fish!"
If you are not good at swimming, another fun activity that you can do is fish for your lunch.  Fishing, is an easy activity, all you need to do is to attach bait to a fishing line, then throw it off the side of the boat. Even a inexperienced fishermen have load of fun to fishing and viewing all the variety of colorful fish in a beautiful sea.
Fun time on the Beach and a Picnic Lunch.
Lunch was a assortment of a chicken wrap sandwich with made with grill chicken, tortilla, vegetables and sauce along with a fruit platter (watermelon, pineapple, papaya, banana, apple etc). These were very enjoyable to eat out in the open.
It is also a blissful time to enjoy the warm and gentle Caribbean wind, slowly walking and gathering flowers while enjoying girl talk with my clients.
Note: We also sell accessories made of Wilkes shells, beautiful Conch shells harvested in the Caribbean Sea. Customers also purchase reasonable priced and cute Belizean accessories to have a memento from their trip.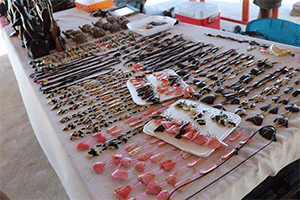 Return to Belize City
While on our way to Belize City, we once again encounter another Manatee.  It came up to the surface of the water, and we were all able to capture a very nice view and take enough photos clearly!  We were also able to see the dolphin jumping.
Goff's Caye, a small desert island in the Caribbean sea, Where there is only the sea and the sky touching the horizon along with white sandy beaches.   You can also experience this day tour with us.  It is the best paradise to heal any fatigue.  So come to Belize and visit Goff's Caye!
If you are interested in this tour, please feel free to email us at info@bzeconcierge.com
See you next time!!
Kozawa Mika (Mika Kozawa)